Change your daily shower into a luxuriously relaxing experience with our latest Germany technology innovation Rain Shower Set. Indulge in our rain shower set to soothe your body and mind, washing away any tension and stress.
Grandeur Rain Shower features our latest INOVO Eco-Rain Technology from Germany.
GO FOR THE BEST – the ultimate in luxury, style and function maximizes enjoyment while ensuring comfort and safety.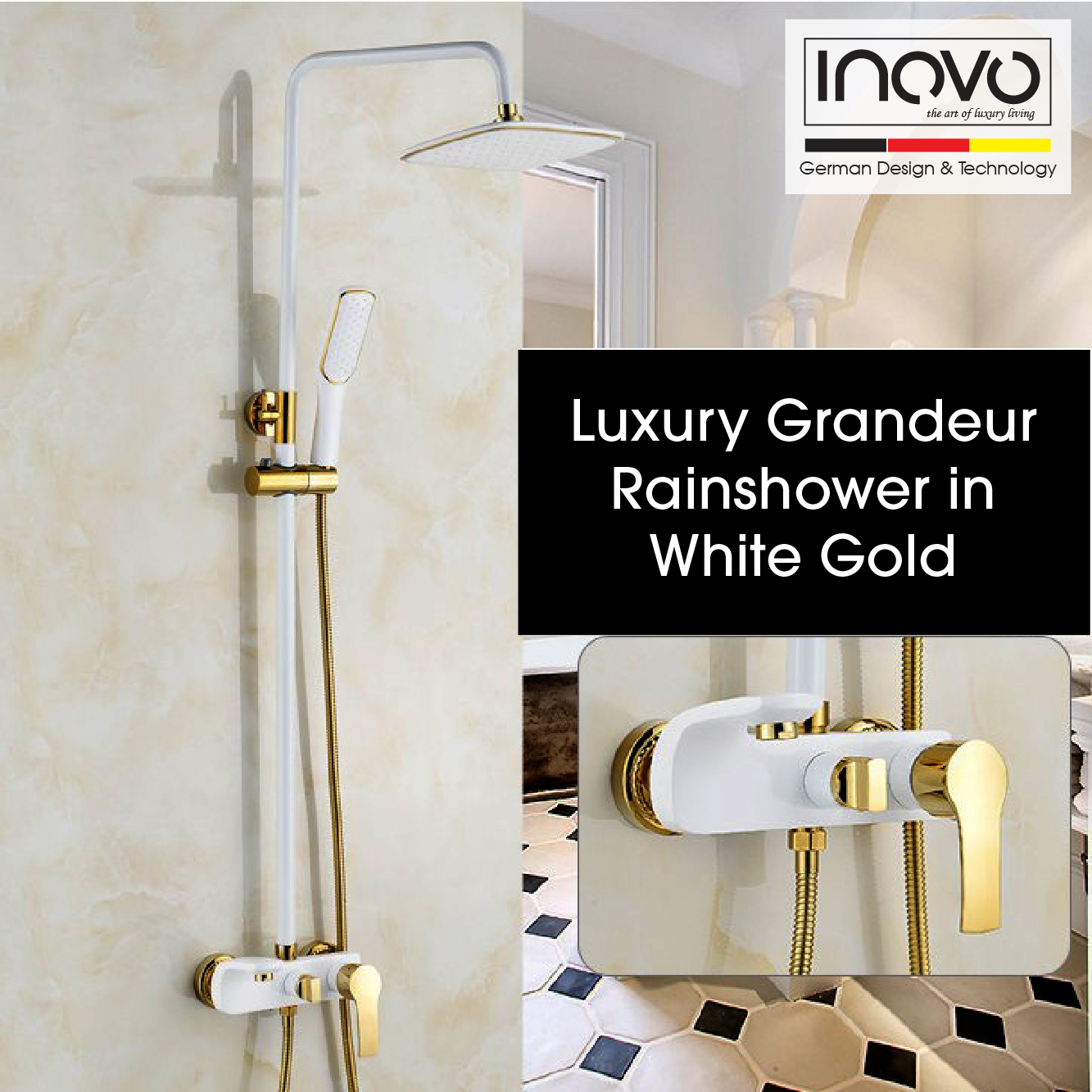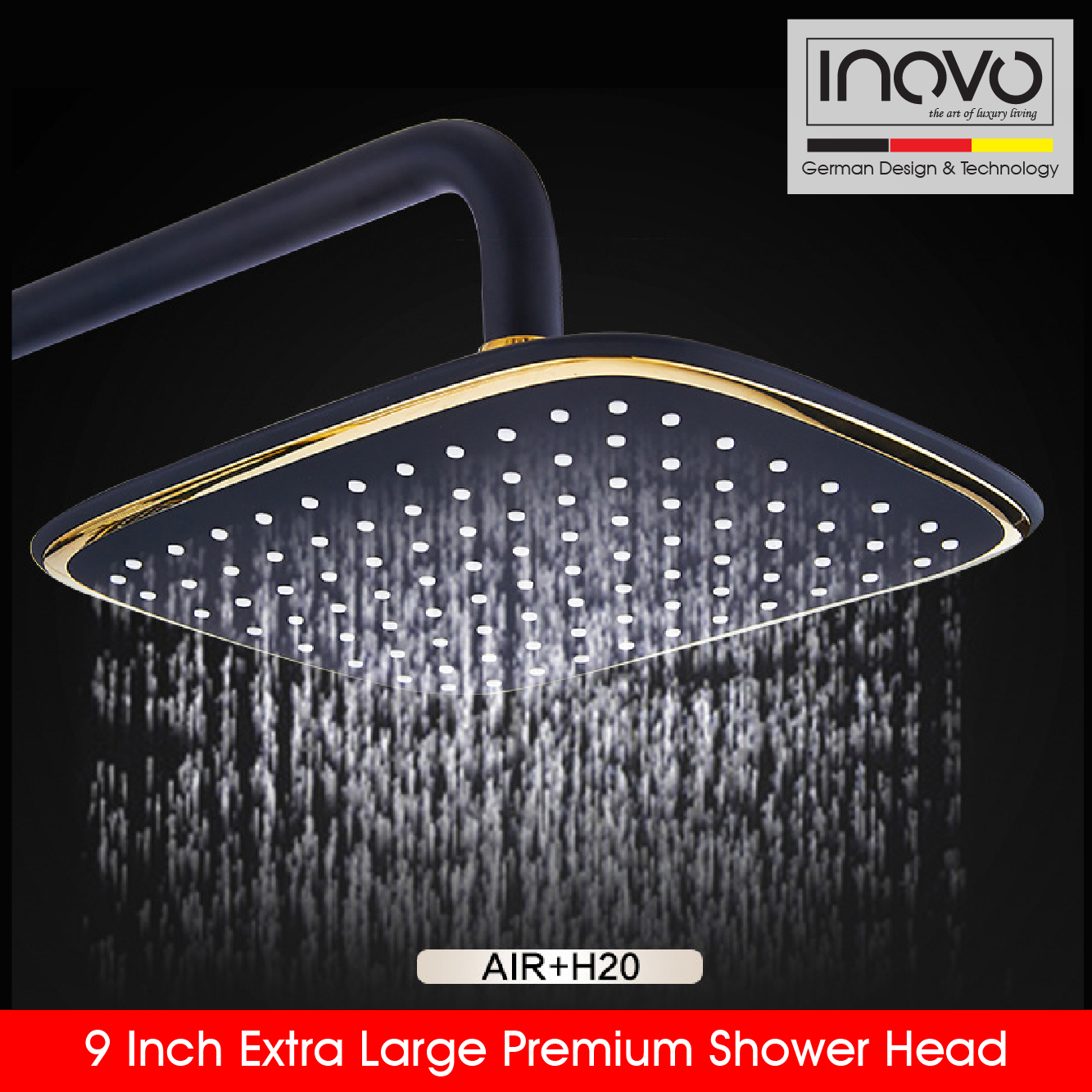 Luxury INOVO® Grandeur Rain shower in White Gold at $260 ONLY (Retail $599)
10 Year local warranty provided.
$260 Only / Retail Price $599
( You Save $339!! )
Nett Price, No GST and Free Delivery
German Design and Technology
Free upgraded shower head with improve water pressure using High Hydrostatic Technology worth $80
18K Gold-Plated in Beautiful Shiny Gold.
Shower mixer made of solid brass with High temperature stoving varnish, double surface colour treatment. Same Technology use in car finishing. It weight more then 1 kg. Very solid built.
>> Colour choice of White Gold or Black Gold
Enjoy special discounted installation LOW rates when you purchase from us!
Optional Installation cost is $60 only. Lowest price you can find! Just pay direct to the installer our customer regularly use. After you place an order, we will email you the installer contact so you can arrange with him your preferred day and time to install.
PS: Take note that if you use (Instant Heater or you can see Expose Water Piping) running across your bathroom near to your water outlet, then mixer bracket will be needed for the installation as an adapter for the hot and cold mixer which cost $20 per pair. For Instant heater installation, it must be expose piping. Conceal piping will not be able to install for instant heater. You can select with bracket during purchase checkout. For all new BTO unit, conceal water piping with city gas and storage heater you don't need that as all attachment is already included!
Product Description:
Complete set of INOVO® rain shower with Large rain shower head 9 inches selection. Award Winning Design with hot-cold mixer.
Europe Luxurious Model ( Beautiful Design!! )
Impressively Built-in spray mode in tap lever to change between rain shower, handheld shower head and lower tap (refer to picture)
New German Technology High pressure (100% more pressure) Hand shower head, could save 50% water usage. This is especially helpful to those households with low water pressure supply.
Measurement:
Shower head adjustable between 90cm to 120cm.
Mixer width adjustable between 135mm to 165mm.
Easy installation in new bathroom or to replace existing conventional shower jet.
Box Size (L)70cm x (H)30cm x (W) 8cm
INOVO® Air energy technology offer consistent powerful rain shower even under low water pressure;

INOVO® precision crafted and smooth finishing.

INOVO® Shower head come with Heat-resistant nozzle prevent aging and anti-clogging, offer more water pressure and easy to clean.

Choice of optional upgrade to 9 inch shower head for more coverage area enjoyment.